Taylor's Impeccable 914ce with V-Class Bracing
Combining premium aesthetics with tone-enhancing details, the 900 Series is Taylor's flagship class of rosewood guitars. The 914ce acoustic-electric Grand Auditorium features revolutionary V-Class bracing, which boosts volume evenly across the tonal spectrum, increases sustain, and improves the natural intonation of the instrument by creating a more synergistic response from the soundboard. This fosters a more harmonious relationship between the notes you play, helping chords to ring out in cohesive splendor. If you're a guitarist who appreciates the robust lows and crisp highs of rosewood, you'll relish how well-mannered the overtones are as your notes bloom. The 914ce's premium features include a beveled ebony armrest for enhanced picking and strumming comfort, along with 21:1 Gotoh tuners for precise tuning. While you delight in its beautiful tone, your eyes will savor the 914ce's tasteful appointments, which include ebony binding, Taylor's paua-and-pearl Ascension fingerboard/peghead inlays, a paua rosette with koa and ebony purfling, and paua/koa body and neck trim.
V-Class Bracing: a sonic revelation
Bracing is the internal framework of an acoustic guitar that helps shape its sound. Although X-bracing has been standard in acoustic guitars for over a century, it creates an innate conflict between two key elements of a guitar's sound: volume and sustain. The guitar's top (its soundboard) contributes to both. The flexibility of the top generates volume (projection), while its stiffness generates sustain. And with X-braced guitar tops, here's where the trade-off comes in: when something is made stiffer, its flexibility is reduced (and vice versa).
V-Class bracing changes all that. With Taylor's V-Class bracing, an acoustic guitar top can be both stiff and flexible — for more volume and sustain. V-Class bracing provides stiffness parallel to the strings for more rigidity and hence sustain. Flexibility on either side generates the air movement necessary for robust projection. It's the best of both worlds. This groundbreaking innovation also improves intonation; not only producing notes that are louder and with longer sustain — but more in tune with each other. Guitarists at Sweetwater are gobsmacked. But don't take our word for it — pick up the superb Taylor 914ce and experience it for yourself!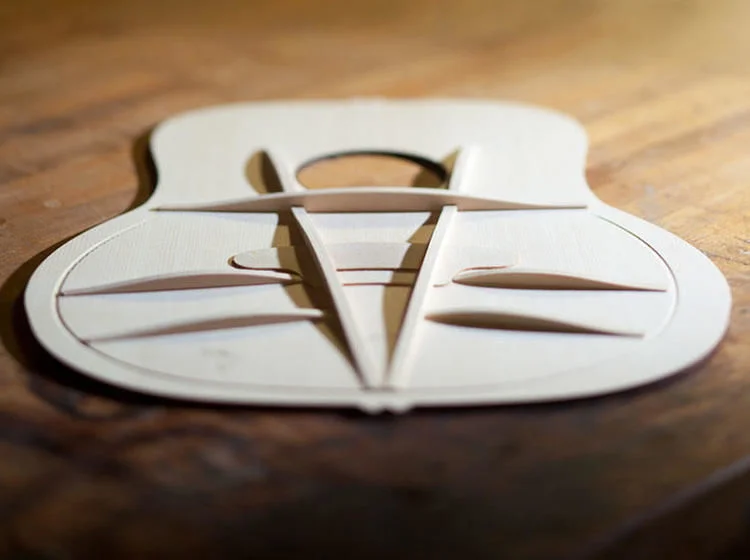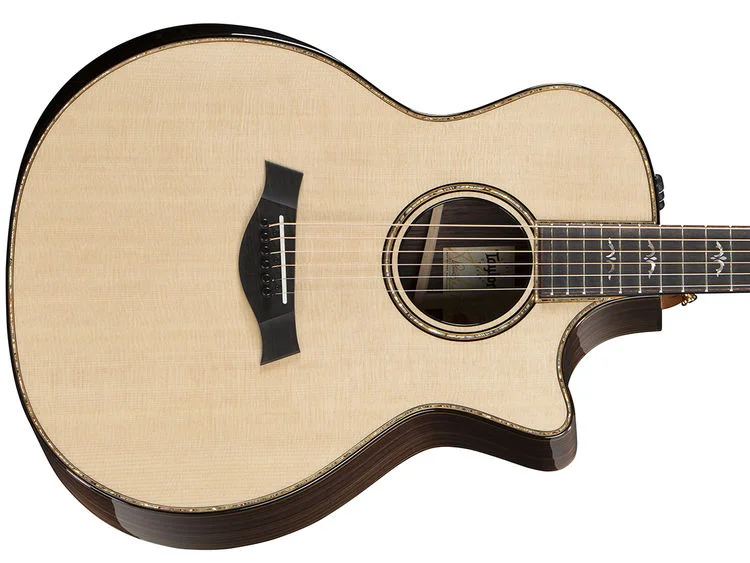 Grand Auditorium body style gives you exceptional presence
Taylor's beloved Grand Auditorium body style, featured on the 914ce, employs the width and depth of the Dreadnought. But, its waist is narrower, which gives Grand Auditorium bodied acoustic guitars a sleeker look, with more treble zing. The 914ce's Grand Auditorium body style also helps to sharpen the definition of each note, balancing out nicely with the excellent projection of its Sitka spruce top.
A classic tonewood combination
Nothing beats the sound of rosewood topped with spruce. As a top tonewood, Sitka spruce offers a combination of strength and elasticity that delivers a broad dynamic range with crisp articulation that's ideal for a wide range of playing styles, from delicate fingerpicking to aggressive flatpicked strumming. Used for the back and sides of the 914ce, Indian rosewood's extended frequency range and rich, musical tonality has elevated it to premium status among tonewoods. Its potent low end can serve up a throaty growl, while sparkling treble notes ring out with bell-like clarity. Slighted scooped in the midrange (as compared with mahogany), rosewood acoustic guitars are perfect for solo performance, vocal accompaniment, and tracking in sparser arrangements.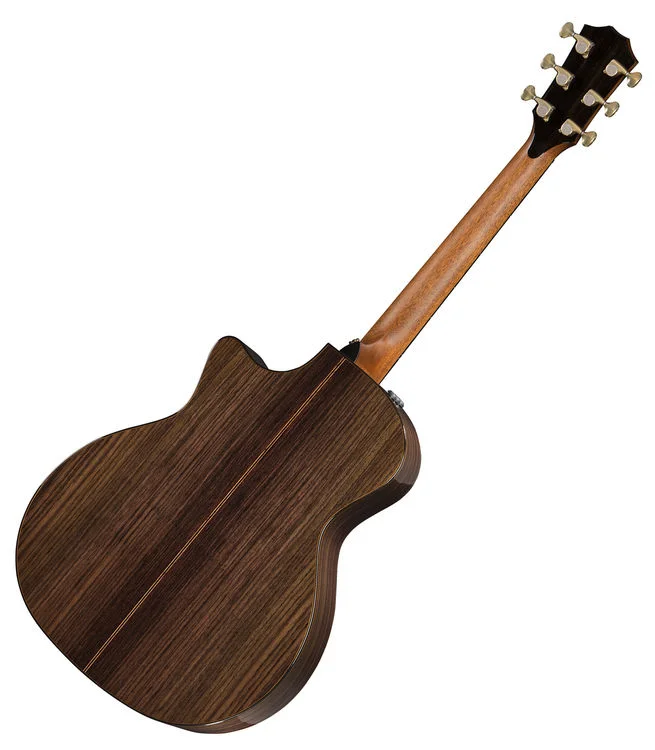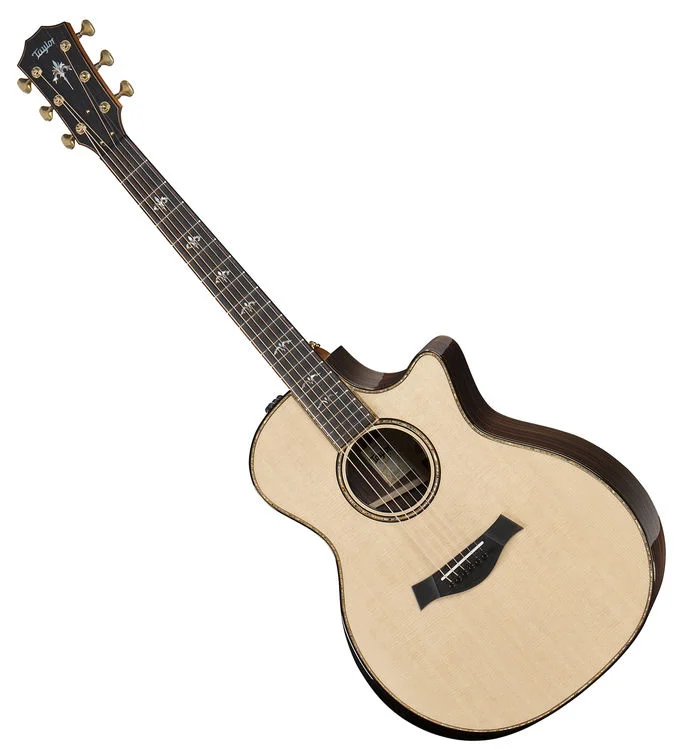 Cutting-edge Taylor Expression System 2 electronics
If you play plugged in, then you're going to love the Taylor Expression System 2 (ES2) electronics built into your 914ce. The key to this fantastic system is the 3-section proprietary pickup located behind the saddle. Because of where it's positioned and how it's integrated into the 914ce's saddle, the ES2 pickup provides you with remarkably clear and accurate sound. In addition to a master volume control, a pair of tone controls let you tweak your highs and lows to get the sound you need, and a discreet phase switch offers vital onboard feedback suppression.
Taylor 914ce Acoustic-electric Guitar Features:
Sitka spruce top; Indian rosewood back and sides
Bracing: V-Class with Relief Rout
Venetian cutaway
West African ebony binding
Beveled ebony armrest
Paua rosette with koa and ebony purfling
Tropical mahogany neck with satin finish
West African ebony fingerboard and binding
Ascension fingerboard inlay
Headstock: West African ebony overlay and binding, Koa purfling, Ascension inlay
Black graphite nut, Micarta saddle
Truss rod cover: West African ebony
Scale Length: 25.5"
West African ebony bridge pins
Gotoh 510 gold tuning machines
Gloss 3.5 top, side, and back finish